The Ritual
The Ritual – By Elliot Brass.
People are superstitious. We all hold our own private beliefs. Beliefs that for no logical reason we know will help our sports team win, our lottery ticket to be that lucky winner.  I think fishing was designed to make us hold on to these misconceptions more than any other activity we do. Once you the cast your line and it disappears under the water all bets are off. We need to use all our "ju ju" powers we can dream up to help us get that fish. For some the ritual involves routine. Wearing your lucky hat, grabbing a coffee at your local shop before you head out. Always fishing a certain fly when things are slow or fishing a certain spot a "special" way. I will not deny the magic effects of a lucky charm when you really need it. I have personally seen them work many times.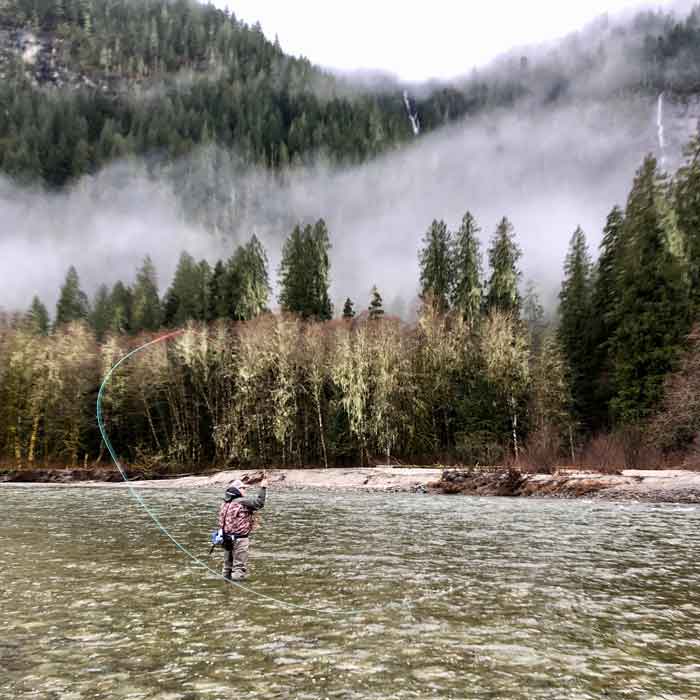 For me, the ritual is a little different. The ritual is the way I start any serious day fishing. I won't say that I start every day with a pancake. Some days start with griddle cakes, Johnny cakes, flapjacks, palachinki, crepes, silver dollars, hotcakes, flip flops, wonder wheels, devil's halos, golden shammies or breakfast frisbees. But most days it's an uncle buck style pancake!
This ritual did not happen overnight it took a few years of eating toast, fast food etc. before I really figured out that what you need to have a great day on the water is a belly full of puffy carbs drenched in maple syrup. I will also allow bacon and sausage into my day if the moon is in the proper alignment.
I have had many icy mornings where you wake up with a fuzzy head in a freezing camper. You know that once you get out of your sleeping bag you won't be truly warm again until you get back into it late into the night. But your bed is a table and you need to get moving. So, you crawl out of your cocoon and add water to flour, crack an egg (hopefully it's not frozen) add your baking powder and wait for the click -click – click flame to light. The propane burner fills the place with a strange warmth. It seems to add to the humidity and not really warm you. Perhaps the old set of waders you were trying in vain to dry last night should have been left in the cab of your truck not hung above your bed?
But by now the coffee has been brewed. You add your powdered milk to it and slug it down. Glug – glug – glug. An old familiar smell fills your nose. The liquid batter has begun to become solid. Little bubbles are forming all through your wonderful creation. As you flip it over you can see a wonderful golden pancake. You know today will be the greatest day you have ever had!!
My obsession has worn off on my friends. If people come to stay, or I go on a trip with my old fishing buddies. They know that I am not by any means an early riser. Or will I ever be called a morning person. It generally takes me an hour or so to "defrost" In the morning. They will get up and before they do anything they will be rummaging through the cupboards looking for oil, frying pans, mixing bowls etc.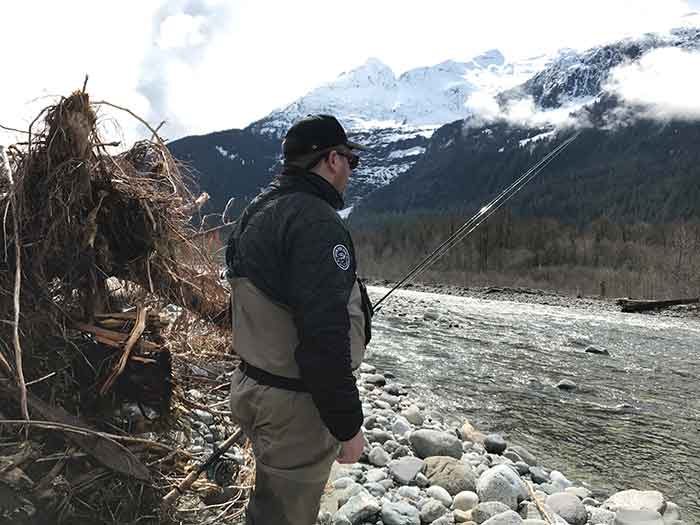 I find the secret to a great cake is to not over mix the batter, a few lumps are more than ok. You need to make the batter a little wetter than you think it should be. It's a batter, not a dough.
Once your batter is made, it is best to start making cakes right away. Cook them in your lucky pan. Spoon in a generous amount of batter. Cook over medium heat and you will see bubbles start to form. Once the bubbles have stopped you will see the outside has started to dry out. You're almost ready to flip them. Give it about 30 seconds longer and you will be good to flip away. Use your old Burnt lucky spatula or if you are feeling lucky just give them a freestyle flip!  Let it cook for another few minutes and turn out onto your plate. If you are feeling fancy you can spread butter on it but I prefer to simply add maple syrup! Grab your lucky coffee cup. Put on your lucky hat and with every bite, your confidence will begin to grow. Today is going to be the day! You will feel it with every bite.
I will share my ritual with all of you in hopes that one day we will eat pancakes together before we head out for the best day fishing ever! Tight lines and full bellies!!

Ingredients
1 c. all-purpose flour
2 tbsp. sugar
2 1/2 tsp. baking powder
1/2 tsp. salt
1 1/4 c. milk
3 tbsp. butter, melted
1 large egg
Vegetable oil for brushing pan
Directions
In a large bowl, whisk flour, sugar, baking powder and salt. Add milk, butter, and egg; stir until flour is moistened.
Heat your lucky pan over medium heat until a drop of water sizzles; brush lightly with oil. In batches, scoop batter by generous dollops into your pan, spreading to cover the entire pan with about a ¼ thick. Cook 2 to 3 minutes or until bubbly and edges are dry. With your lucky spatula, flip; cook 2 minutes more or until golden. Transfer to platter or keep warm on a cookie sheet in 225°F oven.
Repeat with remaining batter, brushing your pan with more oil if necessary.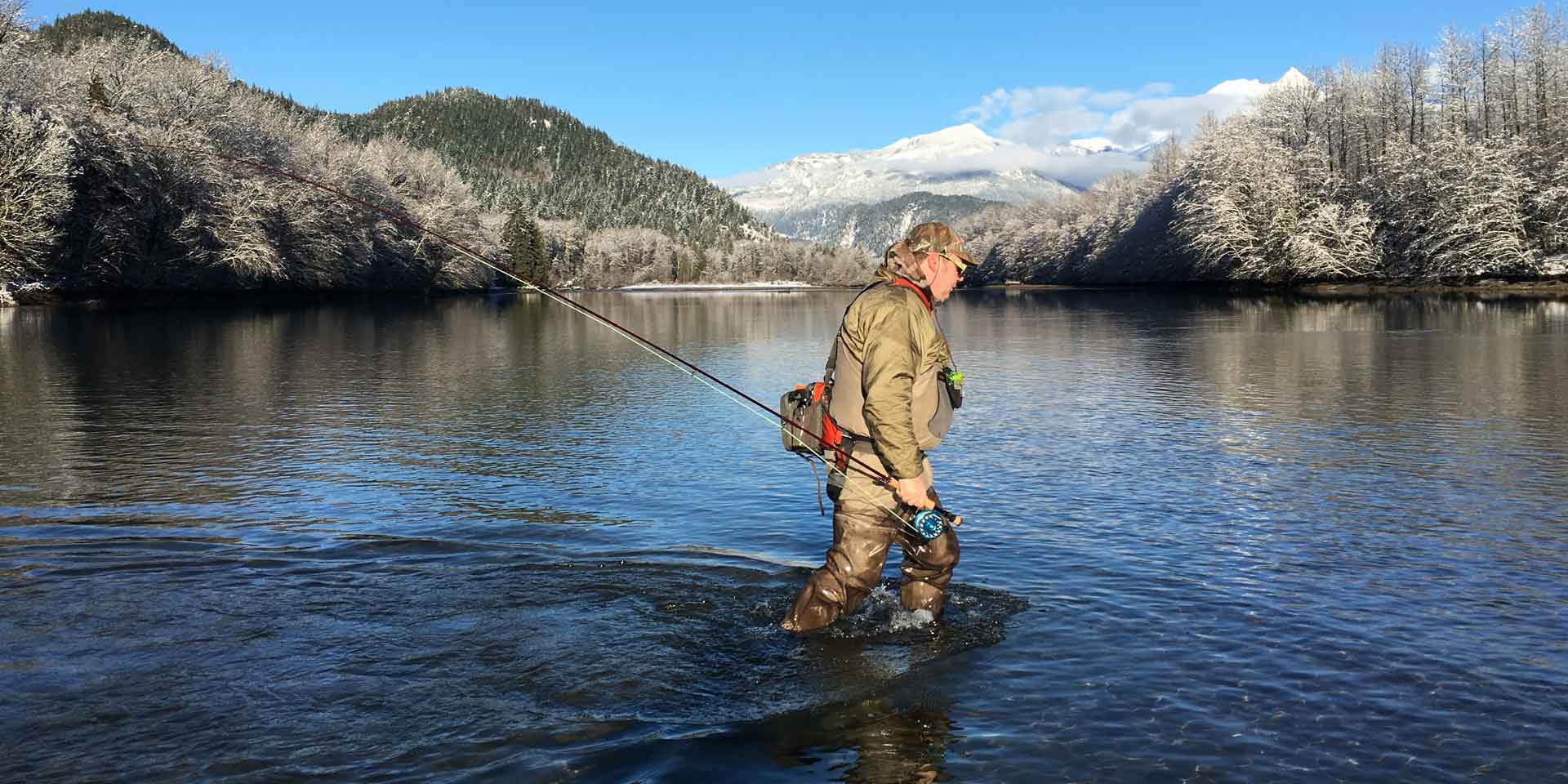 Elliot Brass
When Elliot is not fly fishing, he is most likely on the bench tying flies. After all, tying flies to him is as rewarding as it is hooking into a chrome fish. Always full of stoke and good times, Elliot loves swinging flies and talking about fly fishing. His favourite lucky cap is the Traditional Camo Trucker – Hook.
Follow Elliot Brass on Instagram at: https://www.instagram.com/elliot76/
SaveSave
SaveSave
SaveSave
SaveSave