Fishing: Getting Here from There
Fishing: Getting Here from There – By Jordan Simpson.
Here I am, sitting here on this May afternoon in the sun. I have sushi on one side of me and a glass of Mango Fruit Punch tea from David's Tea on the other. One part of me is thankful for this day off- I can actually relax with my feet up. The other is reflecting on this beautiful day, partially wishing I was on the water. Where it doesn't matter, but as long as I could fish, I'd be content. But then I adjust my attention and refocus on what I'm supposed to be doing- writing this blog entry. What should I be writing about? Camping? Fishing? Fly patterns?
As I sit here wondering what I should write about, I realize that I'm sitting here. Here. But where is here and how did I get here? What got me to this point in life? What got me to a point where I'm writing a blog entry for one of fly fishing's hottest, newest, companies?

The start of an obsession
I started out obsessing with fishing for no reason at all. No one in my family fishes. None of my early childhood friends fished, with the exception of Nathan- a kid who I became friends with from about 3 years old. He lived across the street from my Aunt in Tsawwassen. My first fly fishing 'trip' was with him and his dad to the Skagit when I was 12.
Besides that, my only real exposure to fishing was through the television. I would sit there every weekend, watching hours of fishing on the TV. Yeah, sure, I watched Animaniacs, a Disney Afternoon, and other similar cartoons- but that only after all the morning fishing shows were over.
Sitting there watching them, pen and paper in hand, I wrote down notes. Air date, film date, time of year, patterns, lures, contact information, and anything else that I thought would be pertinent for when I went. Keyword there was when. I didn't know it then, but I probably won't be going to any of the places I took notes on.
Finally, I got my first fishing rod. That's right, I hadn't even gone fishing yet.
That first rod was sweet: a push-button Shakespear spin-casting set up. Black and silver with white thread highlights.
Well, after that, it was all over. Every weekend was me begging my parents to drive me to this lake or that river. They used to drop me off at Berry's in Richmond for hours. Berry's doesn't know this, but we probably owe them a billion hours in babysitting money. They would drop me off there, go do shopping and drive around doing whatever parents did back then and pick me up a few hours later.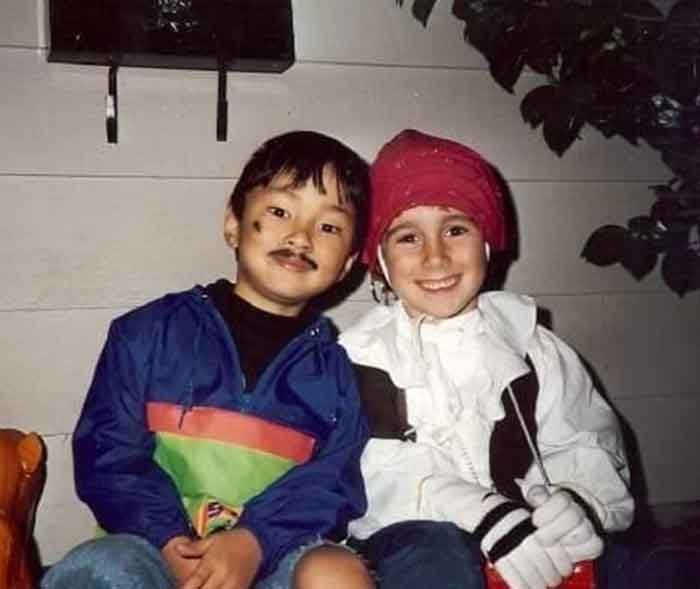 The quest
From there, I spent hours upon hours at different shops, always asking more questions than I ever got answers to. I remember my first free fly, given to me by someone at Ruddicks when they were on Duranleau Street in Granville Island.
Eventually, I met Matt. Matt and his dad fly fished a lot, and I remember me and him quickly became friends in Grade 7. Me and Matt fished all over, anywhere we could get a ride or bike to. Beaches, lakes, and ponds were no match for the two of us.
From there, I eventually settled in on fly fishing pretty much exclusively. Am I stubborn enough that if I go on a destination trip I won't pack a spinning rod? Nope- trust me, I love fishing first and foremost. I'll always throw a fly first, but I'm not going to not catch a fish after traveling as far as I have before.
I used to do the whole tackle-shop tour thing on weekends. I'd go to Stillwater in Ladner. Berry's in Richmond. M&Y in Surrey and Vancouver, and eventually, through my friend Matt, Pacific Angler on Broadway. I missed the days of Anglers West, regretfully never having stopped in when it was around.

Hawai'i and Haida Gwai'i
With my winters being spent in Hawai'i with my family, I eventually ended up living on the couch with Coach Duff, one of the first fly fishing guides in Hawai'i. Him and Stephanie took me in, and I quickly became friends with their kids.
He taught me how to push a skiff (a lot harder than you might think), tie the Spam and Egg's fly, and taught me how to throw a whole line plus three feet of backing. I haven't spoken to him in a while, but I owe him a lot of thanks.
Eventually, I ended up working at Langara Fishing Lodge in the Haida Gwai'i of British Columbia. Climbing the ladder, I eventually ended up as a guide. I've seen some crazy wildlife up there and been a part of some amazing events. I've been a part of people getting their first ever fish, first ever salmon, and even their current 'fish of a lifetime'.
Back in Vancouver
Coming home from the lodge, and popping back into Pacific Angler, I got talking to them about how the summer was down here. They pretty much said it was insanely busy, and asked me if I wanted a job.
As a kid who grew up watching fishing shows, being offered a job in Vancouver's best tackle shop was an opportunity I couldn't refuse. I hopped on board, and have made some great friends and contacts along the way.
Eventually, through the shop, I met Noel and Josi Fox. We started carrying their hats in the shop, and over the past year or so, I've seen it blow up and grow into an industry staple and must-have.
Joining Hook and Vice seemed like a natural progression, so when it happened, and I was asked to write a blog entry, I had all these great ideas. But then I realized, people don't really write about what got them there, at that moment, writing an entry or article. How did he end up there, being asked to feature a fly? What happened in her life, that led her to be a featured speaker? How did he or she get there?
So what got me here, now sitting with a Pina Colada next to me? Thinking and reflecting on it, I'd have to say it was a mix of meeting the right people and opportunity, but lastly, me.

Looking back
A young Jordan never ever dreamed of being here. In all honesty, most of my piscatorial pursuits were simply pipe dreams. Tarpon? Yeah right. Bonefish? Maybe one day. Steelhead? Hopefully eventually.
Growing up, I never really reached out to people or companies to help me. I didn't know where to start, or who to talk to. So, what did I do? I just fished. Fished whenever I could. Fished where ever I could. I simply fished. And out of that, through fishing, I met people. I got to meet some of my industry heroes, as well as some of my best friends. Through simply just fishing, I got to meet people there and here, and fished over here and over there.
With so much focus on becoming famous, people forget to simply do what they love. I saw this a lot in my teenage years, skateboarding. Yeah, there was a lot of natural talent in the people I skated with, but ironically, all the ones that went pro, never really meant to. They just skated because they loved it. Yeah, they were good, but it wasn't about who could be better. They simply skated, and eventually, they got tapped on the shoulder by companies. All the ones who stressed it, sent out demo tapes, and tried to meet everyone at Slam City in Vancouver, all ended up burning out and now work random jobs. All the ones who just did it for it progressed and got somewhere.
I think it's important that when it comes to fishing, we do the same. Enjoy it for what it is. Enjoy and love it for what it entails. Enjoy the friends, the first light, and the last bite. Enjoy the rain, the sun, and the breeze.
In the end
So in the end, what brought me here? What brought me to sitting here, now almost done this Pina Colada?
Fishing. Fishing brought me here. It brought me to meeting Duff and learning the bonefish game. It brought me to meeting Bill and working in the Haida Gwaii. It brought me to working at Pacific Angler. And most importantly, it brought me some of my best friends, and adventures with them. That's what brought me here.
Fishing did.
Jordan Simpson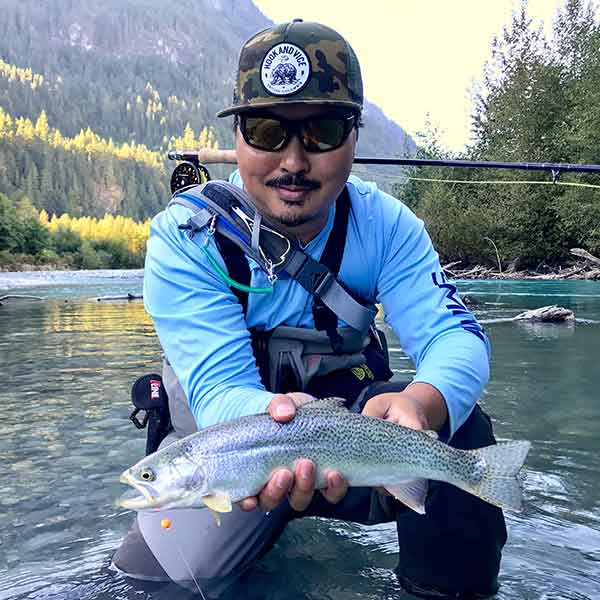 From the first time that Jordan wet a line, he knew it was something that would become an obsession. Fishing shows on TV replaced the usual weekend cartoons, and outdoor magazines grossly out-numbered any comic books.
Pursuing his obsession and growing it into a passion, he's fortunately been able to turn it into a full-time gig. Working at Vancouver's store for the fishing enthusiast, Pacific Angler, days off are often spent exploring the local lakes, mountains, and rivers; or heading out on the salt in pursuit of salmon. Jordan's favorite Hook And Vice cap is the Camo Trucker – Bear.
Follow Jordan on Instagram at: https://www.instagram.com/saltandsand808/