She Dreamed She Could… And She Did
She dreamed she could… and she did – By Katie Dowe.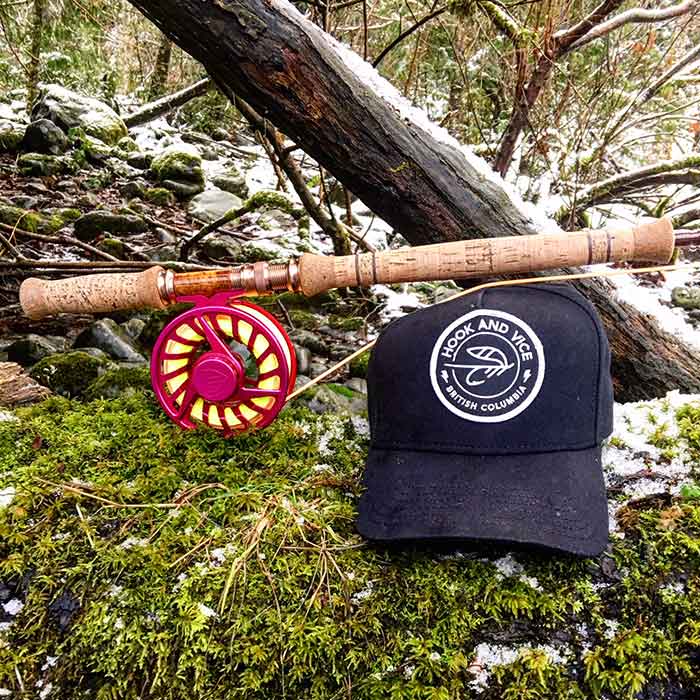 Ever since getting into fly fishing and becoming interested in the outdoors, I always had a lingering dream of taking on some amazing adventures!
With a bit of back story, I was the kind of girl who shied away from ANYTHING out of my comfort zone. I would always make excuses but it was always anxiety stopping me from trying things.  After going through a rough patch in my life, fly fishing magically became a big way of living and something I believe to this day is still healing me.
Fast forward
Fast forward a year later, like any angler you start to research and look into what cool places to fish. You even dream about "where's the holy grail of fishing". Naturally living in BC, I looked into surrounding areas. Don't get me wrong the Island has much to offer but I was dreaming BIG! I came across a web series called "Cast Northwest" which intrigued me since it was based in BC (by the way I highly recommend you watch it).  After indulging in the series more than once I knew my bucket list trip was to go to Terrace BC and fish the world class rivers!
This dream grew and grew over weeks of thinking about it and honestly obsessing over it! (haha) From the grace of the fishing gods and social media I was lucky to link up with a guide in Northern BC.  I was in awe at the fish being caught in the area.  I just knew I had to get there. Funny enough, I had previously booked holidays in the summer MONTHS before I even discovered this bucket list dream. Right at that time, I was invited to come fish in Northern BC. Gitty high school girl screams overtook me at that point! A dream was coming into reality!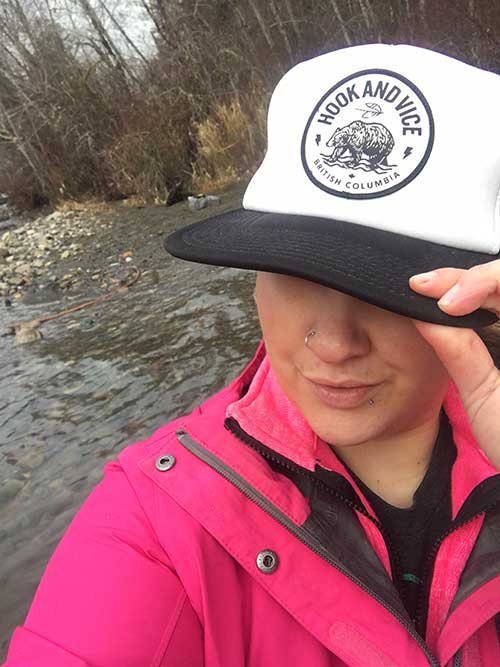 Time to go
The day of my flight, oh my!, was I a ball of nerves. I was on my way to a new place, meeting new people and awaiting new experiences.  Trust me there was anxiety ridden tears that morning but I knew deep down "Katie you're getting your ass on that plane!".  Hell I even had an escape plan (hahaha). Once I got to Vancouver, if I was going to chicken out I knew my sister lived in the area and she would come save me.
Finally it's time to board and I'm thinking to myself "yep you're definitely going". I step onto the plane. No turning back now, you're going to northern BC.  Finally, we land at the airport and I'm over thinking like crazy. Damn, I gotta go get my rental car, then I need to find the place I'm staying, go grocery shopping and the list goes on and on.
Rental car
Now here comes the hilarious part of the adventure, which isn't fishing based but well worth the chuckle in my opinion.  I reach the rental car area (anxiety at all time high) and they give me the keys to a car that they said was an upgrade. Thinking to myself "well that's cool"….little did I know not the upgrade I was thinking.  At this moment, it's storming outside and its dark. I'm wheeling my bags and rod to the car. Oh look,  a Hybrid Prius. Ok, I can work with this, I'm good with cars and technology stuff. Couldn't even turn the damn thing on! Thank god for the national car rental lady. I swear in that moment they gave me a spaceship.
Now  I'm on my way to my Airbnb and it's pouring rain, can't figure out the wipers, they're going mock 50 and my Siri directions are barking at me to turn here and turn there. Miss my turn (damnit) but I finally make it to my cute cottage in the woods. Phew!  I get in contact with the guide I will be fishing with and get a time and place to meet, perfect!
The morning of
In the morning I'm a kid on Christmas, but still anxious to meet new people.  I get all geared up and head out the door to go on an adventure for the day! There I am waiting for the guide and fellow anglers to meet up with me. They pull up and I realize I'm the only girl joining the group and the youngest. Great, they probably think I don't know anything. Note that I took lessons and practiced so hard before coming on this trip.
Everyone is super nice and welcoming which put me at ease since I was going to be spending a whole day with strangers essentially.  This part of the trip it was just going to be me, the guide, and another angler.  The guy I am fishing with is a retired rocket ship engineer from the states, I joked with him about my space ship car, and it seemed fitting given his prior career.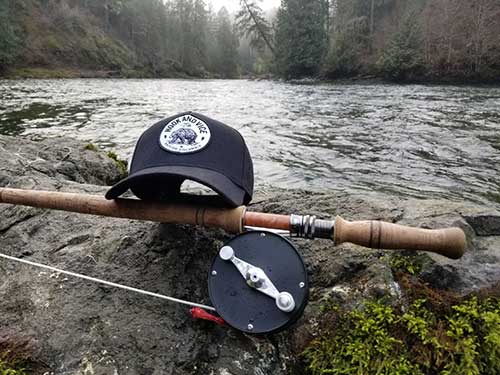 On the river
We get to the river where we were going to be launching the drift boat. I start setting up my rod and reel like any other day fishing and I hear from Rocket Man:  "You didn't tell me she knew what she was doing!".  The guide and I had conversed over social media but of course he didn't know my full knowledge as an angler so I honestly found it funny.  So, I proudly said "Ya I do know what I'm doing, even if I'm new at this." They had no idea I could cast a double handed rod, set it up, tie on tippet etc..
I felt pretty proud of myself that I could prove myself to these experienced anglers. We head onto the drift boat and I'm stoked! At this point, I have never drifted down a river.  We come to our first run of the river and now the guys get to see me in action! I tie my fly on and cast that bug out into the drifting water. Couple casts later BAM!! Fish on!!! I pull in a monster Pink Salmon, which compared to the pinks I had caught on the island, this fish was big!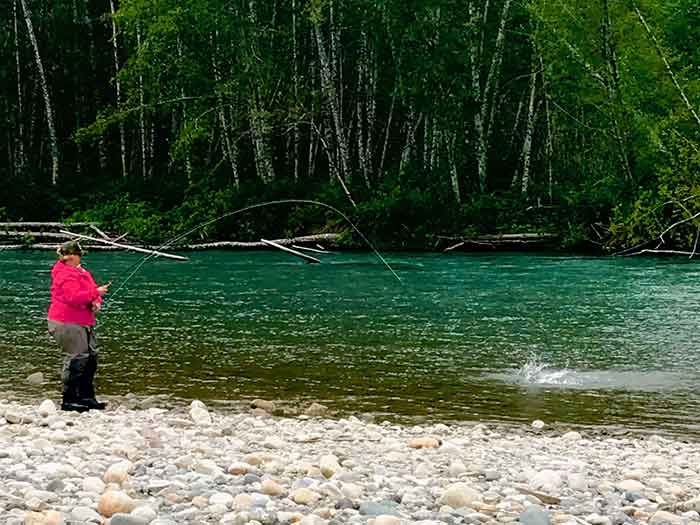 So proud
Wow! was I impressed with myself! I kid you not, the whole day was full of catching fish. I honestly caught and landed 20+ fish that day! Plus, it stroke my ego a bit to have out fished Rocket Man, while fishing behind him. How could it not? New into fly fishing, only girl, youngest one, and travelled by myself to go on this adventure.  Fish gods blessed me that day for sure!
Finally, what came out of that experience was that I proved to myself that I'm more than capable of adventuring out on my own. Even if it felt very scary, I knew I couldn't let that dream pass me by.  As a woman angler I hope to inspire other women to follow their dreams (fishing related or not). Don't be afraid! You deserve as much space in the fishing community or the world as the next person.  Be full of pride, dreams, wonder, adventure, love and passion. Make space for yourself! I know I did that day on the river and it's honestly a memory I will never forget! For a moment I had men thinking I was a force to be reckoned with on a river. In itself, that's magic ♥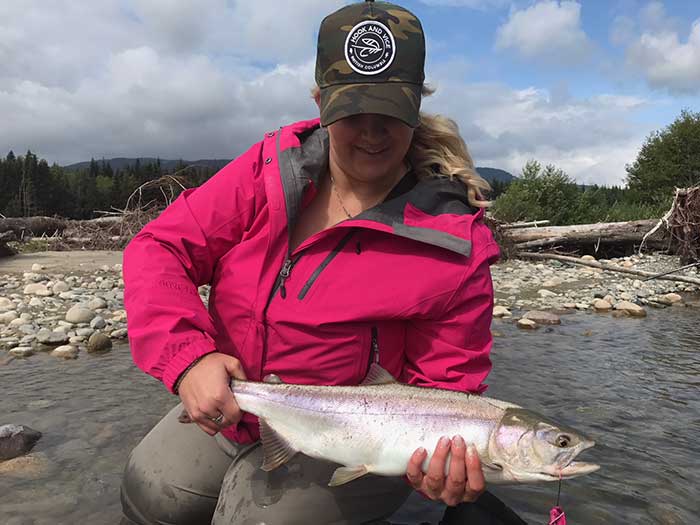 Katie Dowe
Hook and Vice Ambassador and hairdresser from Vancouver Island who is in love with the wild. Katie's favourite Hook and Vice cap is the Traditional Camo Trucker – Hook.
Follow Katie on Instagram at: https://www.instagram.com/_misskatiedee
SaveSave
SaveSave
SaveSave
SaveSaveSaveSaveSaveSave
SaveSave
SaveSave