Considering a fishing trip to Newfoundland and Labrador?
Considering a fishing trip to Newfoundland and Labrador? – By Chris Wessel.
Newfoundland and Labrador offers some great angling opportunities in both fresh and salt water. One of our biggest draws is our Atlantic Salmon run in the summer and fall. Our angling season for Atlantic Salmon is from June 1st to September 7th in most parts of the Island portion of the province with a short catch and release season on a few rivers from September 8th to October 7th. In our province you can only fly fish in our scheduled salmon waters.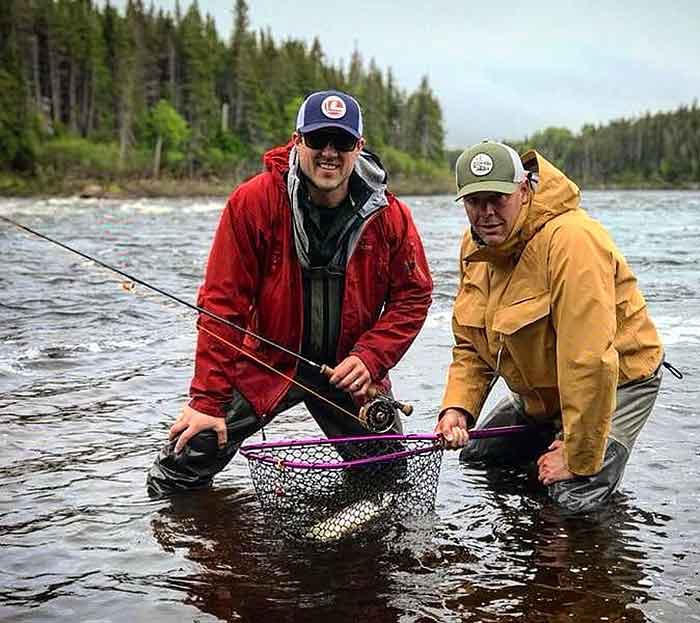 When planning a fishing trip to NL, there are a few things to take into consideration.
Choosing a Guide:
If you are a Non-Resident, by law you will need to hire a provincially licensed guide to angle on our scheduled salmon rivers. You can expect to pay anywhere from $100.00 per day to $400.00 depending on the services the guide offers and their reputation. If you stay with an angling lodge, the guide is likely provided.
It's important to be upfront and honest with your guide before coming to NL. For example, if you have physical limitations, your guide needs to know so they can plan a trip accordingly to ensure they give you the best chance at hooking fish while bringing you somewhere that is within your limitations. The same logic goes both ways…. If you are adventurous and you like being away from the crowds then there is no point in hiring an out of shape guide that is only willing to bring you somewhere they can drive up to.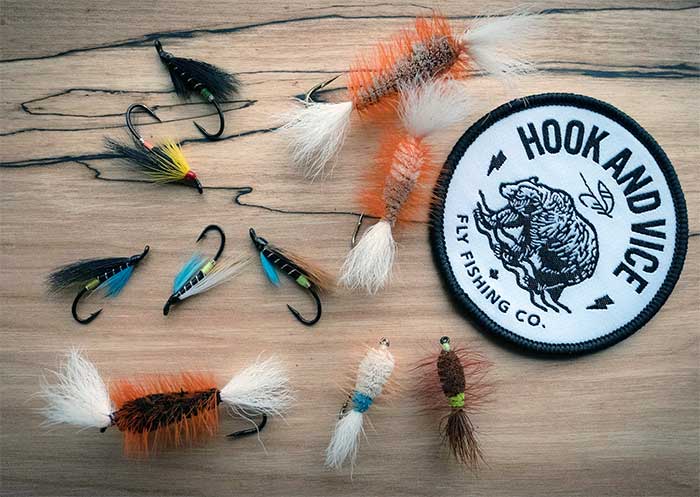 Some questions you may want to consider asking are:
1) What does the daily fee include?
Are flies provided? Who pays for gas? Do I bring my own lunch or is it provided? There are likely reasons why one guide charges $100.00 and another charges $400.00. These questions will likely answer why they are charging what they are. For example, I charge a little higher on the scale for my guiding service. I do so because I can provide shore meals, flies, back up rods and reels and likely some cool pictures taken with my DSLR camera. When you add it all up you are getting a pretty sweet package for what you are paying. Maybe you do not want any of that stuff though. Maybe you don't even want advice from a guide. You can literally pay a guide money to sit on shore and sleep if that is what you're into.
2) What is the fishing like at the time of year I am planning on coming?
Our Atlantic Salmon hit NL rivers at different times throughout our season. Most rivers here are the best from June 20th to Aug 1st . During this time the salmon are still fresh from the ocean and are more inclined to take a fly. The longer salmon sit in fresh water the more reluctant they are to take a fly. Your guide should know when and where to be fishing to make sure you have the best chance at hooking up.
3) Are you able to provide references?
Any guide that is good at their job shouldn't have an issue providing contact info from a couple past clients to back up their claims of being a good guide. From my experience, a client who had a great day fishing would have zero problem telling others about it if they were contacted. Honestly….have you ever met a fly fisher that hasn't wanted to brag about a good day on the water????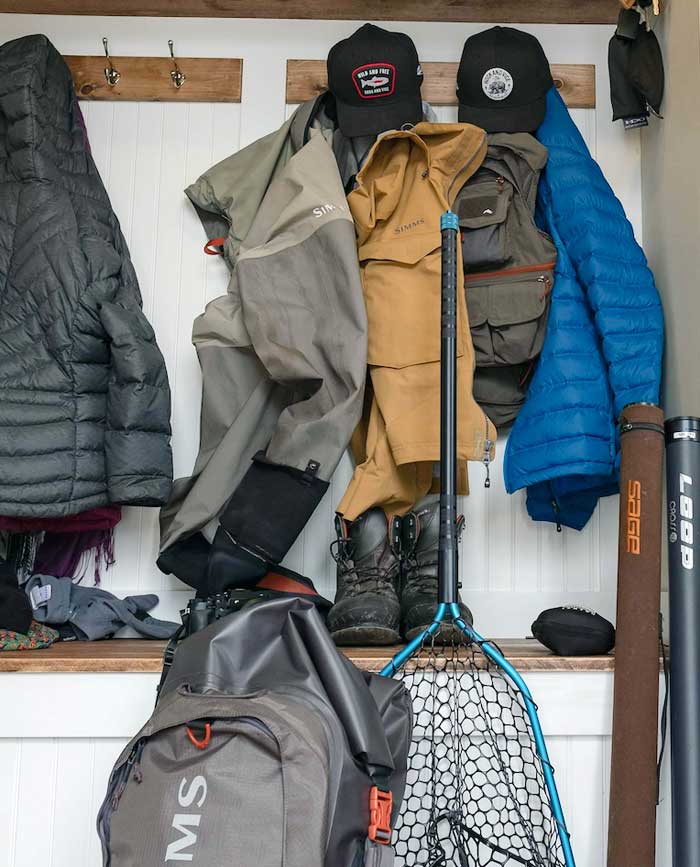 4) Non fishing questions
So you have set on a date and location where you will be fishing. Is your spouse coming with you? Do they fish as well? If not what will they be doing all day while you're gone? Where are you going to stay?
These are all questions that your guide may be able to help with. They will likely know some other things to do in the area you are staying and they will likely have the inside scoop on best and worst places to stay that you may not see on the internet.
Gear:
You have got your trip booked; now you want to know what to pack. Our salmon aren't too picky but there are some things you will want to bring or make sure you have access to when you get here.
1) Flies
A good guide should be able to provide you with the flies you will need on the particular river he/she is guiding you on. In the case that you are bringing your own flies, here are a few patterns that are very universal in NL
Wet Flies (sizes #8 to #12)
– Blue Charm (white and dark wing)
– Thunder and Lightning
– Black Bear Green Butt or Red butt
– Silver Tip and Silver Rib
– Green Cosseboom
– Undertaker
– Paddy Francis
Dry Flies (sizes #4 to #12)
– Orange Bomber
– Green Bomber, Brown or Orange Hackle
– White Bomber or White Wulff
– Halloween Bomber
– Killer Whiskers Bomber
– Any natural color Buck Bug
2) Bug Repellant
If you look at a map of Newfoundland and Labrador you will see we have a lot of bogs and stagnant water….black flies and mosquitos love it here. There are days it certainly feels like you are being subjected to torture in which there is no escape. We have really bad days and we have days where we don't seem to see a lot. I work in the woods and I play in the woods, the only sure way not to get bitten by these spawns of Satan is to sell your fly gear and buy an Xbox. There are ways to minimize the damage however,
– Thermacell
These are great for mosquitos and ok for black flies in my opinion. These units are also nice because it saves you from slathering bug repellant on your skin.
– Bug Spray
As much as you hate to use it, you want to get the stuff with the highest amount of DEET in it. I try to put most of it on my Buff around my neck or on my hat to avoid or minimize my skin exposure to the harmful chemicals. It works for both black flies and mosquitos.
– Bug Net
These are great when nothing else is working and the flies are really thick. I do not like using them because I find the mesh impedes my vision slightly and I want to see unobstructed rises for my fly.
3) Rods, Reels and line
– It's always good to bring your own gear that you are used to and gear you are comfortable casting. Your guide should have a backup for you though.
– Rod
Generally we use 6 weight to 10 weight rods here in NL and we tend to stay within 9ft and 10ft lengths for single hand rods. Action type is based on the angler's preference.
– Reel
I've never put a lot of emphasis on my reels. A smooth drag is always helpful however.
– Line and Leader
We use floating lines here for Atlantic salmon. In bigger waters we use a weight forward and smaller waters we use the same or double taper. In this province, tapered leaders are not overly popular. We have great success with using just one size leader tied to our fly line and then to the fly. 4lbs test to 10lbs test is common leader strengths.
4) Waders and Wading Boots
We primarily use chest waders here. I've recently started to avail of convertible waders to give me more options for different water levels. Obviously breathable is the way to go when purchasing waders but budgets often dictate what you buy. For wading boots it is a toss-up between a good Vibram sole boot with carbide studs or felt soles. I believe the angling community here would be split down the middle when asked what they prefer. I personally have uses for both types of soles. If you are hiking a fair distance to and from your fishing spot then the Vibram soles provide excellent trail traction. Felt is great in the water, not so much on muddy hills.
5) Clothing
I cannot stress enough how important it is to pack proper clothes for our weather here. A common phrase used by our residents is "if you don't like the weather wait 15 minutes". This is actually not far from the truth and it is important to be prepared. Here is my checklist for fishing clothing.
– Breathable/waterproof wading jacket
– Hat (The Hook and Vice "Sunset Bear Pro Model" preferably)
– Base layers
– Quick dry pants and shirt
– Thin fleece or sweater
– Polarized sunglasses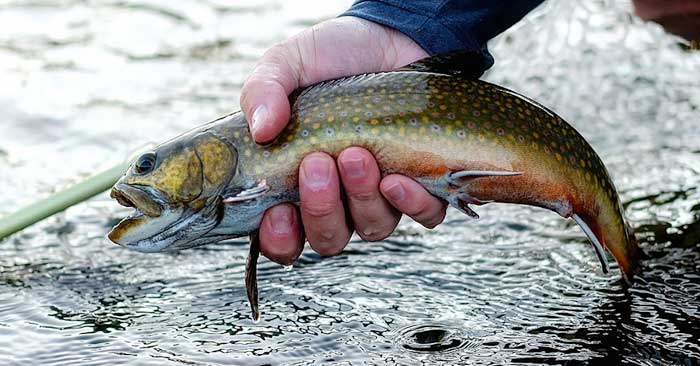 6) Other Gear
Landing Net
These are great for anglers looking to release their catch. I recommend a rubberized mesh or knotless mesh because knotted mesh can be harmful to a salmon's protective mucus layer on the body. Your guide may already have one of these.
Wading Staff
I cannot count how many times I have saved myself from a nasty fall because I was using a wading staff. I use it for a balancing aid and I use it for feeling around in front of me in deep water before I take a step. I have found this to be an important tool while fishing here. I recommend a staff that can fold up and be put in a belt holster when not in use.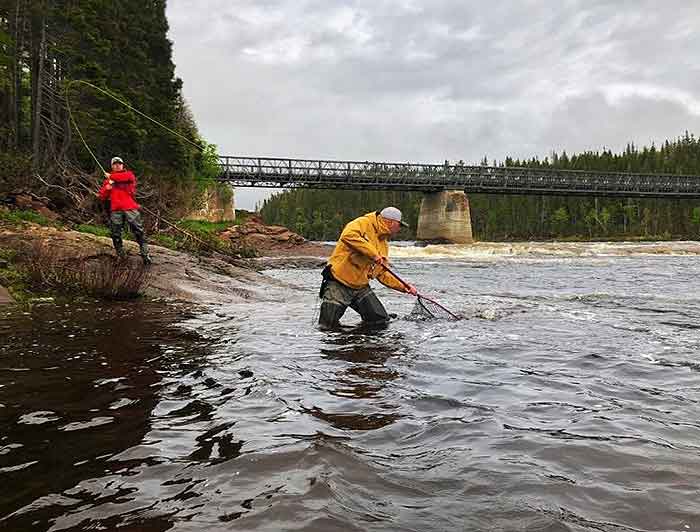 Newfoundland and Labrador undoubtedly offers some of the best Atlantic salmon and Brook Trout fishing in North America. If you are looking for a trip that is off the beaten path you should seriously consider a visit to our province. Feel free to shoot me a message on Instagram if you have any questions, my handle is @newfoundlandflyfisher.
Chris Wessel is a fly fishing guide in Western Newfoundland, fishing for Atlantic Salmon and wild Brook Trout.  To contact Chris about guided fishing contact him through Instagram @newfoundlandflyfisher, or drop him a line at +1 (709) 638-5151