Blood Worm
Fly Fishermen's Pre-Season Checklist – By Zach Copland.
Bloodworms are a must have pattern for any stillwater angler that is fishing just after ice off. These patterns are extremely effective under an indicator just off the bottom early in the morning before other food sources become more prevalent. This pattern is quick and easy and it doesn't long to tie up a few for your box.
Materials
Hook: Flow Fishing FH5221 Nymph size 12
Thread: UTC 70 Red
Tail: Non UV red marabou
Body: Holo tinsel red, Stretch floss red
Bead: 7/64" metallic red
Other: Solarez bone dry uv resin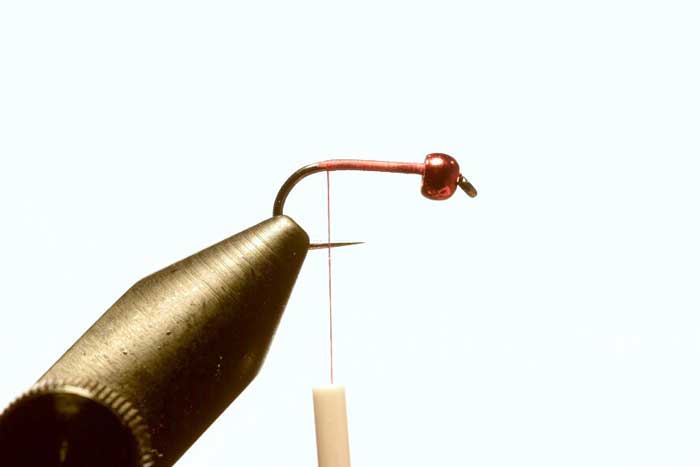 Start by placing the bead on your hook and add a layer of thread to the back of the hook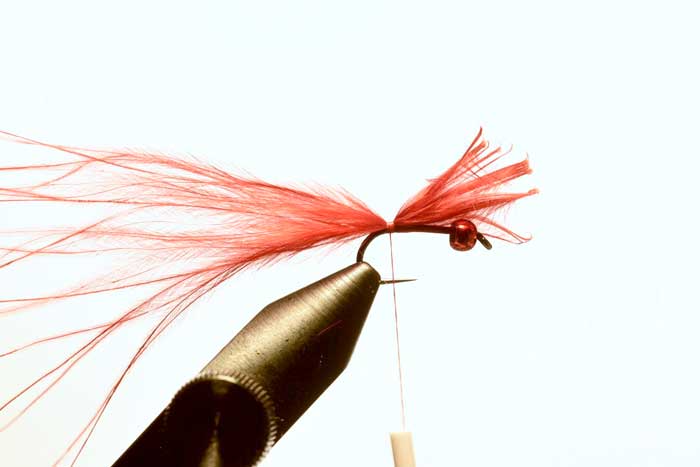 Tie in a sparse clump of red marabou stripped from the quill. I like to take a wrap of thread under the marabou to help it from fouling on the hook bend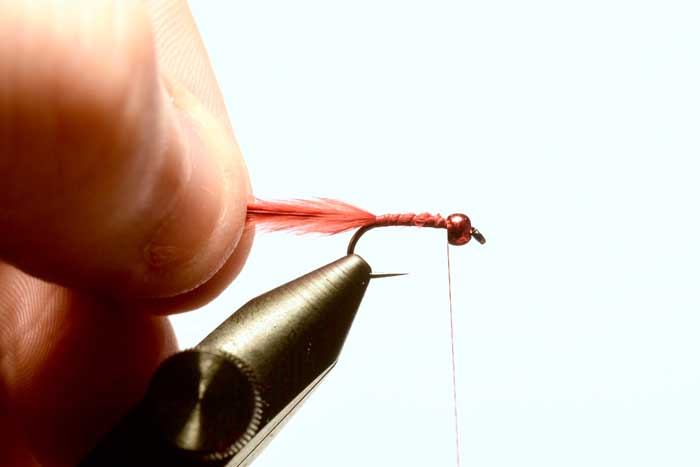 Take your thread up to behind the bead and trim the excess marabou off. Now is where I pinch the tail to length, I like it to be a hook shank in length. It's important to not cut the marabou with scissors. If you do your tail will have a sharp end to it and it won't flow as well in the water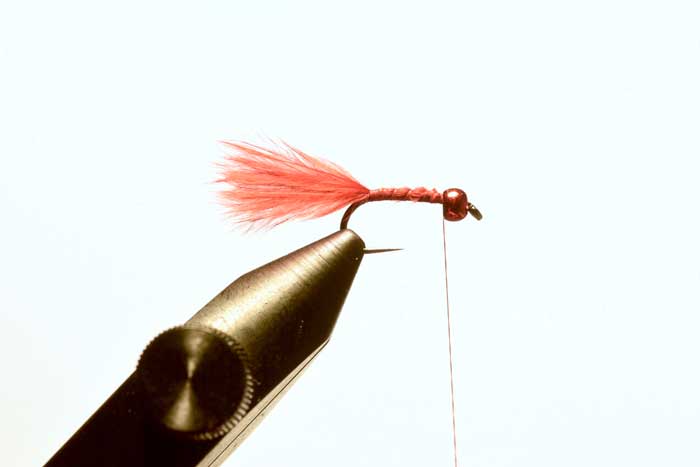 As we take our thread back down the shank we will tie in our piece of stretch floss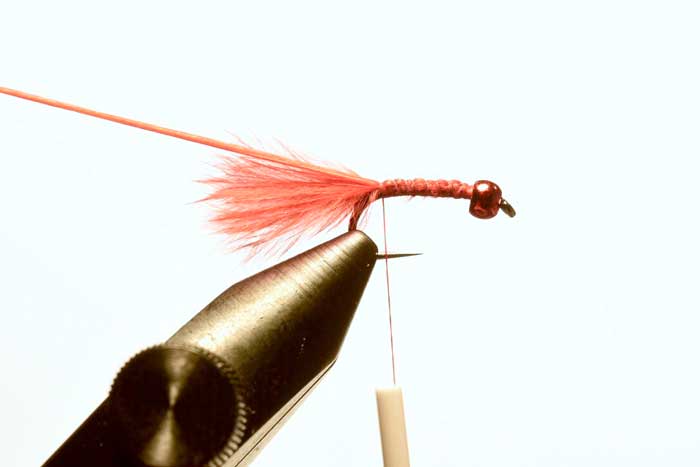 Once we're at the base of the tail we will tie in our holographic red tinsel and tie this in on the way back up the hook shank. By tying in each new material during each direction change with the thread we can ensure that we have a nice smooth and even body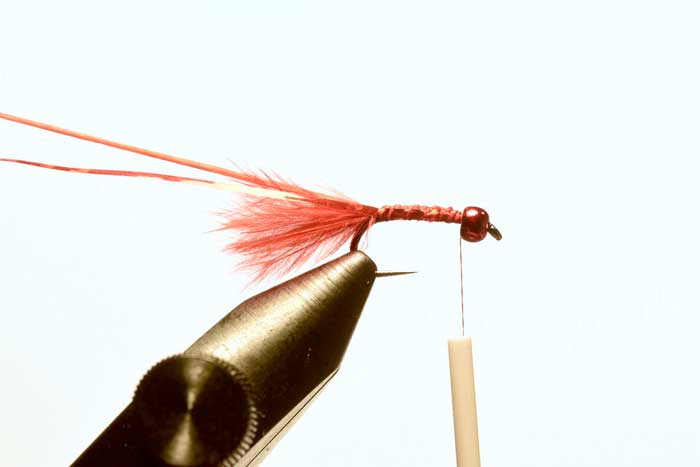 We will now wrap our holographic tinsel up to behind the bead with slightly overlapping turns. Trim off any excess once you have secured it behind the bead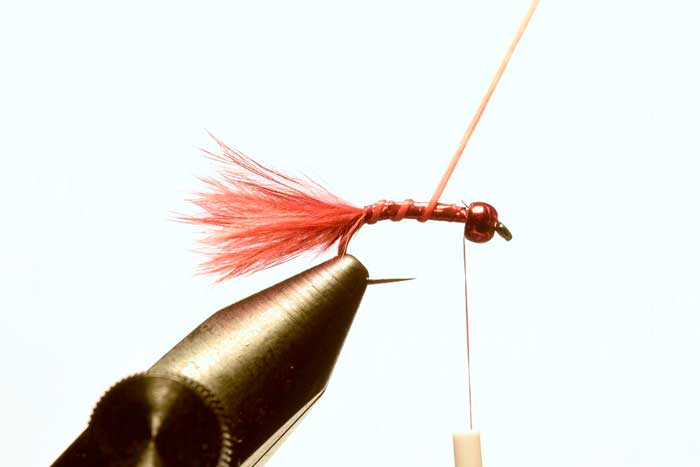 Now wrap the stretch floss in open spiral turns up the hook shank. Start by pulling on the floss to create a thinner rib and slowly release the tension to create a natural taper to the rib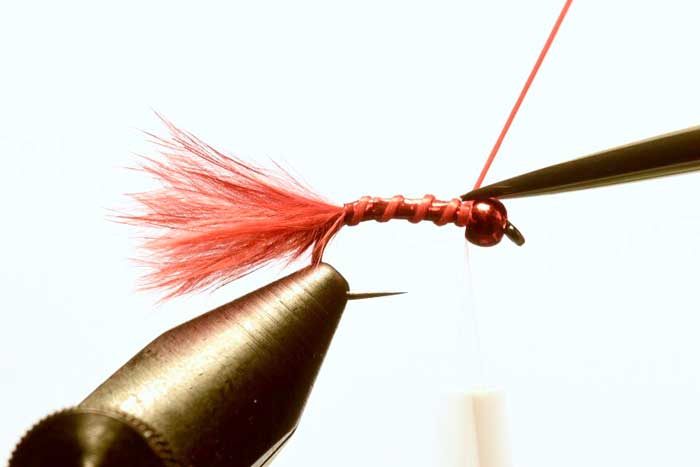 Once the stretch floss is behind the bead give a few really good securing wraps and gently pull on the floss while trimming off the excess. When we pull and cut the floss it will suck into your thread wraps and leave you with a nice finishing point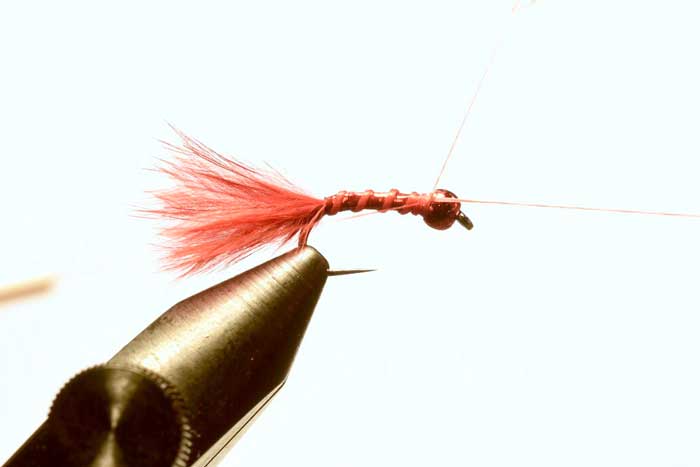 I like to build a bit of a thread collar behind the bead before whip finishing the fly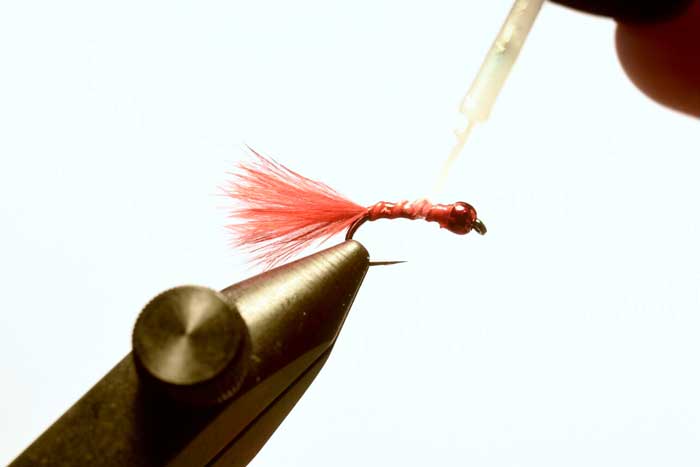 You could fish the fly just like this. However, stretch floss can be brittle and after a few fish it tends to break apart. I like to reinforce it with a nice layer of Solarez Bone Dry. Make sure that you aren't coating it so much that you can't see the raised rib over the body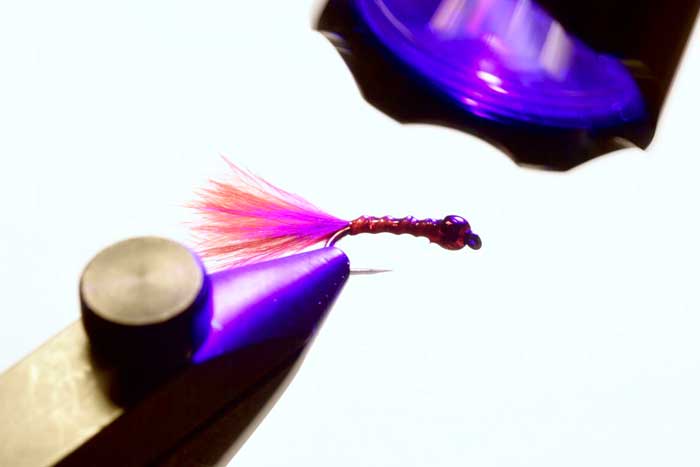 Once you have the body coating how you want it give it a cure with your UV light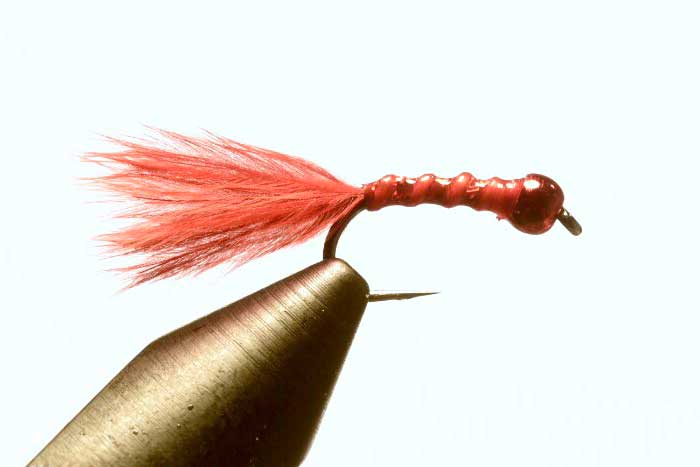 Your fly is done. I have had great success with this pattern early in the stillwater season. This bloodworm is a must have in my box and after fishing it, it will have a permanent place in yours as well!
Zach Copland
Zach's passion for fishing started out early with summer trips with his Grandfather and Dad fishing for salmon around the gulf islands. His passion turned into an obsession when he got his first fly rod and tying kit. He fishes the lakes around the Sea to Sky corridor and the mouth of the Fraser River during the spring and summer. During the fall and winter, he can be found on the Squamish River hunting for salmon, bull trout, and steelhead. Zach loves tying streamers and coming up with new variations of your favorite flies. His favorite Hook And Vice Cap is the Hooked Pro Model.
Follow Zach on Instagram at: https://www.instagram.com/zachula_/ and on Facebook at: https://www.facebook.com/fridaynightflies/