Fly Fishermen's Pre-Season Checklist
Fly Fishermen's Pre-Season Checklist – By Zach Copland.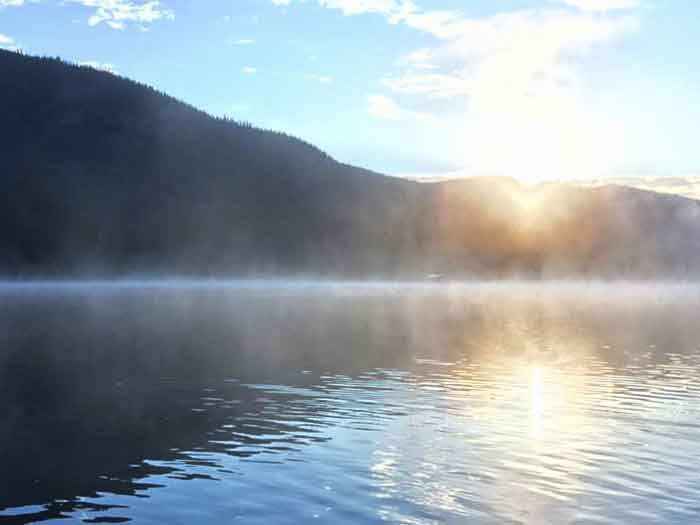 Slowly but surely the temperatures are rising, just like the fish in your dreams. Before you know it the lakes around the province will be free from their frozen vaults and we will once again be able to unlock the secrets to our favorite still waters. However, before all that happens it is best to make sure that all of your gear is in working order. A pre-season checklist is great to ensure you have everything you will need to make your first lake trip of the year a successful one.

Let's start with the reel
Your reel is an important piece of equipment. If it isn't working correctly it can turn a great day into a miserable day very quickly. You want to make sure that you store your reel with the drag completely off. If your reel is stored with the drag on it can wear out and cause the reel to seize up, rendering it useless. You will want to grease up the clutch bearing and make sure any dirt and grime is cleaned out before putting the reel back together. If you aren't comfortable doing this yourself then your local fly shop should be more than happy to maintain your reel for you.

Dust off your rods
Next, you will want to go over your rods. Yes, I said rods, as in plural, we all know you have more than one fly rod at home, even if that isn't what you tell the wife. You will want to check the reel seat to make sure everything is in working order. Check the ferrules of each section for cracks and try to clean out any dirt and grime on the female ends. Have a good look over all of the guides as well. If you do have any issues, most reputable rod companies come with a lifetime warranty and will either repair or replace your rod. It's better to find this out now than the night before your first big trip of the season.

The business end
It's time to look at arguably the most important part of your setup, your line. Without it, you won't be catching anything. Start by taking off your old leaders and replacing them. Hopefully, your local shop has a line recycling bin and you can dispose of them responsibly. If your shop doesn't then get them to check out the Berkley line recycling program. Details can be found here.
Next, you will want to strip your line off of your spools and give them a good stretch. Even the best lines will retain some memory after being stored over the winter. While you stretch your lines, make sure to check for cracks. Repair them with my favorite material, Solarez FLEX, or get your line replaced. If you really want to take your prep to the next level then grab a Rio AgentX Line cleaning kit and make sure your line gets the care it deserves.

The fun part
Time to get the fly boxes out and refill what is missing. While you are taking inventory of what you need, double check to make sure that no hooks are bent or rusted. If you tie your own supply then you are probably already well underway to stocking your boxes with fresh creations. If not, then hit up your local shop and restock on your favorite materials. Get creative with all the new products that are constantly coming out.

Last but not least
The final thing on my checklist is all the little things that you don't always need but you kick yourself when you don't have them. If you have a throat pump make sure you can find it, along with any vials for samples. Make sure you have your terminal items like split shots, swivels, and indicators. Grab some new floatant if you are low. Don't forget to check expiry dates on your bear spray, sunscreen and bug spray. Quickly changing weather conditions is also not uncommon during the early part of the year. Wearing layers is always recommended to keep you warm during the chilly mornings and cool during the warm afternoons.
A good pair of polarized sunglasses are always useful. They cut the glare off the surface of the water so that you can see fish cruising the flats. They also double as eye protection in case the one that got away spits the hook and it comes back at your face. Personally, I never leave for a fishing trip without my lucky Hook & Vice, Camo Trucker – Hook Hat, if you don't have a lucky Hook & Vice hat already you should pick one up ASAP! Last but not least, April 1st also marks the date for when our fishing licenses in BC need to be renewed. If you fish a lot then you will be on this already. Make sure that you get your Salmon and Steelhead Conservation tags if you fish for these species as well.

Zach Copland
Zach's passion for fishing started out early with summer trips with his Grandfather and Dad fishing for salmon around the gulf islands. His passion turned into an obsession when he got his first fly rod and tying kit. He fishes the lakes around the Sea to Sky corridor and the mouth of the Fraser River during the spring and summer. During the fall and winter, he can be found on the Squamish River hunting for salmon, bull trout, and steelhead. Zach loves tying streamers and coming up with new variations of your favorite flies. His favorite Hook And Vice Cap is the Camo Trucker – Hook.
Follow Zach on Instagram at: https://www.instagram.com/zachula_/ and on Facebook at: https://www.facebook.com/fridaynightflies/
SaveSave
SaveSave
SaveSave
SaveSave